This page will give you information on sorting and grading alpaca fleece. This knowledge is useful for the hobby farmer when selecting new animals to add to your herd and to market the fleece of your animals after shearing. It is also useful for people buying raw fiber.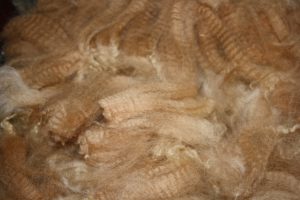 The fiber above was harvested from a male fawn alpaca when it was 1 year old. The quality of the fiber is determined from a number of characteristics defined below:
Colour
Alpacas exhibit 11 different colour classes: white, beige, 3 degrees of fawn, 3 degrees of brown, bay black, true black, silver or rose greys. Some breeders concentrate on one colour however it is very difficult to breed for specific colours since genetics play games with us. I owned a true black female from a medium fawn male and a beige female. Obviously both parents had black in their bloodlines.
Length
The length is measured from the base of the cut to the tip without stretching. The alpacas are shorn once a year so the length corresponds to annual fiber growth. When the animals are very old, they will grow a lot less length and can be shorn every other year.
Diameter
When the quality of alpaca fiber is determined, this characteristic account for 70% to 90% of the evaluation. The diameter of the fiber is measured with specialised equipment. Fiber with a diameter of 20 microns or less is very sought for. This fiber is often called baby alpaca.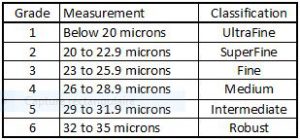 There are other criteria to determine the quality of fiber however the ones above are the most important.
Visit this page again. The information here will be very useful.