If you have land and are interested in alpacas, the best way to learn about them is keeping alpacas as pets. Alpacas need enough land to feed themselves. They need access to a shelter to protect them against the dominant winds and bad weather. Fencing will also protect them from predators.  
Fenced pasture
Breeders recommend having no more than 5 to 7 alpacas per acre. The land should be divided into smaller pens to serve as rotation to ensure alpacas always have green pasture. Animals need to have access to the three side or fully enclosed shelter.  Every paddock needs to be connected to a path to it. Breeder also use these pathways as catch pens to herd the animals for shearing or any other care needed. The smaller the area, the easier the herding.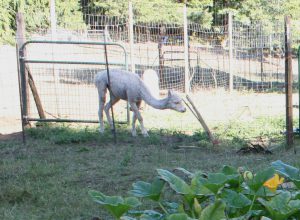 Use 4 or 5 feet high woven wire fence with 2 x 4 inch rectangles. The purpose of fences is to create multiple pastures for rotation, setup a path to the shelter or shelters, prevent predators and other animals entering the paddocks and separate males from females and young animals. Every pasture will need a large water bucket for the animals.
Alpaca pets
Alpacas are herd animals so when you buy them, you should get at least 3. When you want alpaca pets they should all be the same gender (all females or all males). We bought 3 females to start our heard and paid for stud services. When we sold our animals, we had 6 females and 2 males.  Alpaca pets are often older animals or males that will not be used in a breeding program. They may or may not produce fine fiber. We call those males fiber boys. Their prices are much lower than the breeding stock. You can have medium quality fiber boys for $500 per individuals.
Books on alpacas
Before you get involved, read books on alpacas. Amazon.ca is a great source of books on alpacas. When we purchased our animals in 2006, we got "The Complete Alpaca Book". I consider it the bible of alpacas. It covers every aspect of breeding.
Here are some of the subjects covered by the book:
History, where did alpacas come from

Behavior, how alpacas communicate

Anatomy and conformation, helps you select individual according to your use

Herd management, husbandry, restraints and training

Transportation

Feeding

Fiber characteristics and terminology

Fleece preparation and shearing

Reproduction

Medicine and herd health

Parasites and diseases

Poisons and common toxic plants

Genetics
I highly recommend this book. Have a look at the different books and alpaca products on Amazon.ca.
If you have any comments or questions, please write a comment to this blog.
NicoAlpaca
Nicole Champagne is a participant in the Amazon.com.ca, Inc. Associates Program, an affiliate advertising program designed to provide a means for sites to earn advertising fees by advertising and linking to Amazon.ca.